What is Red Shirt Service?
It's our foundation and commitment to excellence in servicing our customers. At Boyer's we believe that Red Shirt Service is having the Friendliest, Most Helpful, and Knowledgeable Teammates available to assist you in any way during your shopping experience.
We hope that each and every time you are in our stores, you see the difference in our Teammates vs. our Competitors' Employees.
Help us Reward our Teammates for Performing Outstanding Red Shirt Service!
Use this Nomination Form to Nominate the Boyer's Teammate(s) that Exceeded your expectations during your shopping trip!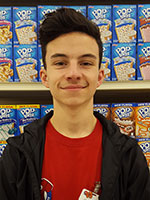 We are pleased to announce our 2016 Red Shirt Service Yearly Winner, Christian Ambrose from Womelsdorf!
Christian won from the following nomination:
"The other evening in your store I saw a young man, who was a cashier, help a man that was blind. It was very touching as he took him through your store while the blind man put his hand on the cashier's shoulder. I watched them go up and down the aisles as they collected what he needed. He helped him with the checkout process and then carried his groceries out to the car where his driver was waiting for him. Thank you for having great employees that are willing to help in any situation."
Please join us in congratulating Christian on this outstanding act of service.