What is Red Shirt Service?
It's our foundation and commitment to excellence in servicing our customers. At Boyer's we believe that Red Shirt Service is having the Friendliest, Most Helpful, and Knowledgeable Teammates available to assist you in any way during your shopping experience.
We hope that each and every time you are in our stores, you see the difference in our Teammates vs. our Competitors' Employees.
Help us Reward our Teammates for Performing Outstanding Red Shirt Service!
Use this Nomination Form to Nominate the Boyer's Teammate(s) that Exceeded your expectations during your shopping trip!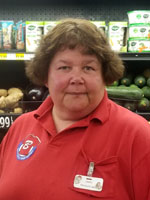 We are pleased to announce our 2022 Red Shirt Service Yearly Winner, Carol Crochunis from Pottsville!
Carol won for the following Act of Customer Service:
Carol noticed one of our regular customers coming in multiple times throughout the day and purchasing the same items every time. When Carol would talk to the customer, she seemed confused and would say that it was her first trip in the store that day. Carol thought this was odd, and she knew the customer's niece. Carol called the niece and explained everything to her and what had been happening. The niece, who lived far away, called social services to have a wellness check done. The niece was grateful that Carol noticed this odd behavior and reached out to her.
Outstanding Job Carol!!! Please join us in congratulating Carol on this outstanding act of customer service.